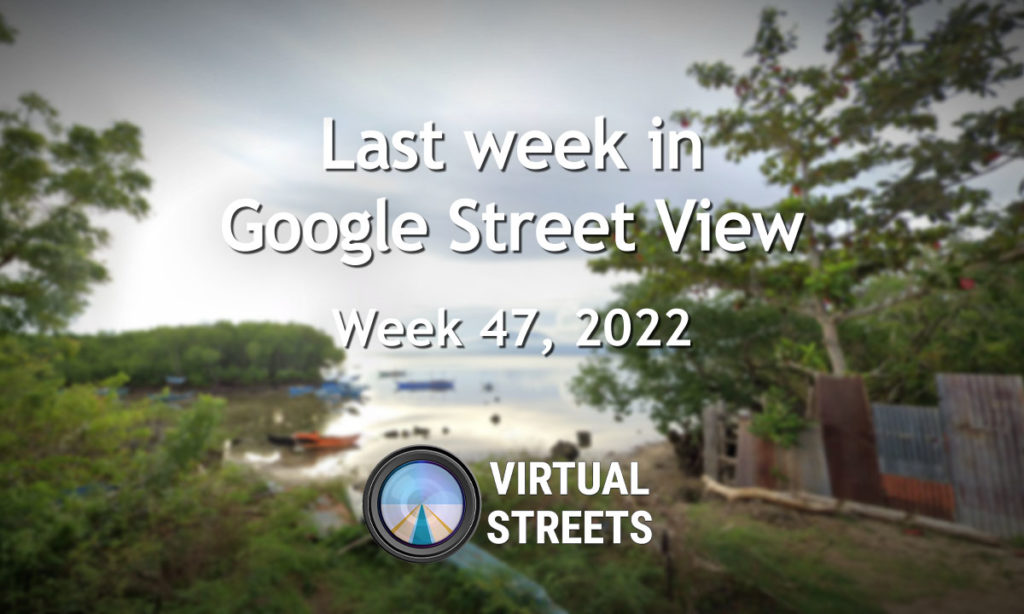 Main Events
August 2022 coverage is now available in Chile, September 2022 in Colombia and November 2022 in Belgium, Czechia, th Philippines and Portugal.
The list of future coverage got updated this week:

Spain was added back and extended to January 2023

Latvia and Lithuania was added back and extended to November 2022
Estonia was removed from the list
Finland and Hungary now end in November 2022 instead of December 2022
Denmark now ends in December 2022
The United Arab Emirates now end in January 2023
Qatar got additional entries added with all the regions and many towns listed. Basically the whole country is listed up from December 2022 to March 2023 which either means it will be fully covered or the whole list was simply copy pasted and not everything will be covered (similar to British Columbia for Canada). The entries are not visible in the list yet but exist in the file that contains the list data.
Continuous Updates
Last week updates were found in 33 countries.
Colombia got updated in many areas, including first gen 4 coverage being published in Cali. On its side Chile finally got a new update introducing gen 4 coverage in the Antofagasta region and adding a missing part of the highway 1 to Street View.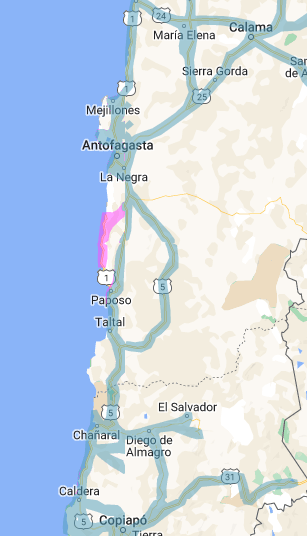 Turkey got another batch of large additions, notable in the west and the south close to Syria and Iraq. It is mostly the continuation of previously released coverage that is still not fully complete yet.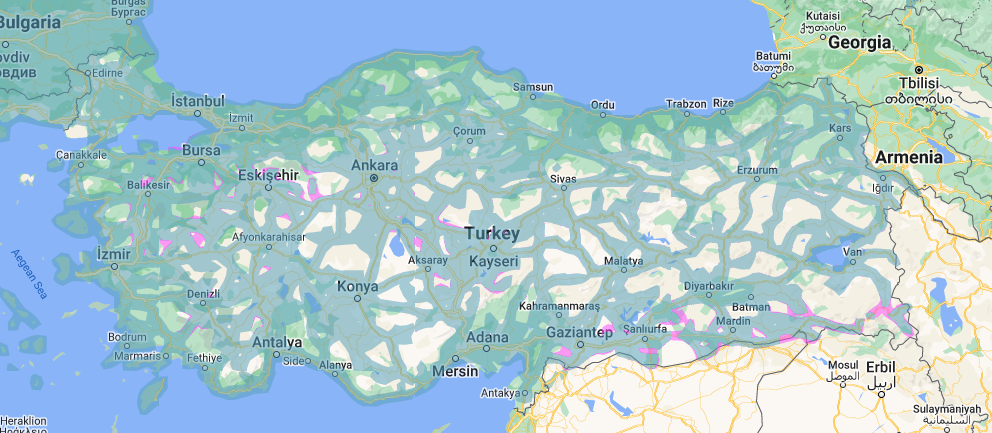 In a similar way, Brazil's recent additions kept growing in the past days.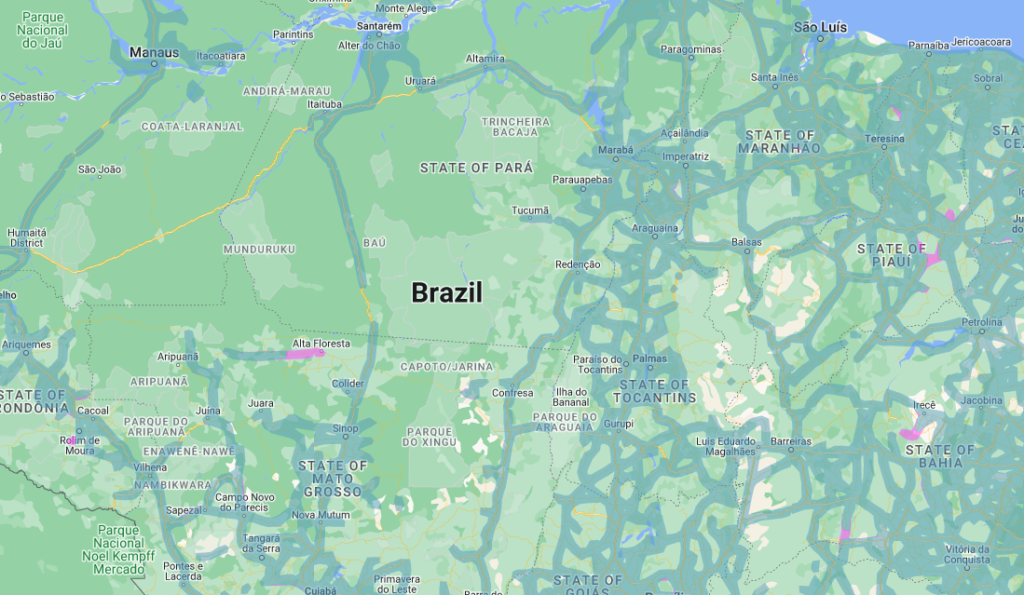 In central Europe some good additions occurred in Austria. Other countries nearby such as Czechia, Slovakia or Slovenia also got some new roads covered.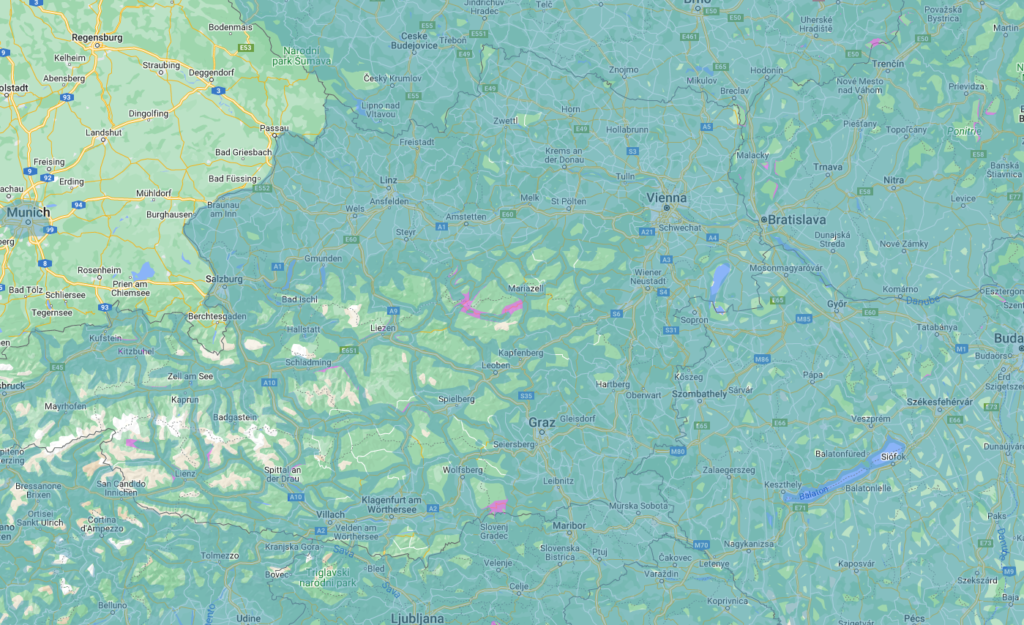 In South Africa the road going though the Pilanesberg National Park got added. Some parts are still missing. A few other roads were add in other areas as well (not pictured below).
In Australia some roads were add in Queensland along the coast.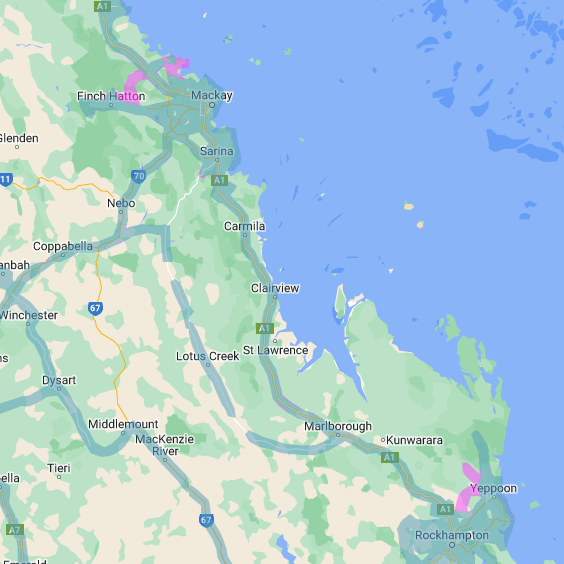 And as usual many other smaller additions and regular updates in many countries:
| Country | Subdivisions |
| --- | --- |
| Argentina | Corrientes |
| Australia | New South Wales, Queensland, Victoria |
| Austria | Carinthia, Styria, Tyrol |
| Belgium | Flanders |
| Brazil | Ceará, Maranhão, Mato Grosso, Piauí, Rio Grande do Sul, Rondônia, Tocantins |
| Bulgaria | Blagoevgrad, Burgas, Dobrich, Jambol, Kardzhali, Lovec, Plovdiv, Ruse, Silistra, Targovishte, Varna, Veliko Tarnovo, Vraca |
| Canada | Alberta, British Columbia, Northwest Territories, Québec, Saskatchewan |
| Chile | Antofagasta, Atacama, Bio Bio, Coquimbo, Maule, O'Higgins, Santiago Metropolitan Region, Valparaíso |
| Colombia | Antioquia, Atlantico, Bolivar, Boyaca, Caldas, Cesar, Cundinamarca, Huila, La Guajira, Magdalena, Quindio, Risaralda, Santander, Tolima, Valle del Cauca |
| Czechia | Central Bohemian, Moravian-Silesian, Olomouc, Plzeň, Prague, South Bohemian, South Moravian, Zlín |
| Denmark | Southern Denmark |
| Hungary | Borsod-Abaúj-Zemplén, Heves |
| Indonesia | Banten, East Java, East Nusa Tenggara, South Sulawesi, South Sumatra, Special Region of Yogyakarta, West Java |
| Ireland | Dublin, Laois, Mayo, Westmeath |
| Italy | Calabria, Lombardy, Sicily, Veneto |
| Japan | Fukuoka |
| Latvia | Jelgava |
| Mexico | Morelos, Oaxaca, San Luis Potosi, Tabasco, Tamaulipas |
| Netherlands | Gelderland |
| New Zealand | Auckland, Northland, West Coast |
| Norway | Troms og Finnmark |
| Philippines | Caraga, Central Luzon, Central Visayas, Davao, Eastern Visayas, Metro Manila, Zamboanga Peninsula |
| Portugal | Évora, Guarda |
| Romania | Brăila, Călărași, Hunedoara, Maramureș, Vâlcea |
| Slovakia | Banská Bystrica, Bratislava, Trenčín |
| Slovenia | Laško |
| South Africa | Limpopo, Mpumalanga, North West |
| Spain | Aragon, Castile-La Mancha, Navarre |
| Sweden | Gavleborg, Skåne, Varmland, Västerbotten |
| Taiwan | Chiayi, Taoyuan |
| Turkey | Aksaray, Ankara, Gaziantep, Kilis, Kırşehir, Manisa, Şanlıurfa, Şırnak |
| United Kingdom | Northern Ireland |
| United States | Arkansas, Kansas, Maryland, Michigan, New York, Pennsylvania, Texas, Vermont, Virginia, Washington, Wisconsin |
Note: information is gathered from the community, assisted with tools, as Google do not provide any information: it may be incomplete but should be reliable.
Google Car Spotting
Last week Google Street View cameras were reported 28 times by people from 12 different countries.
With winter coming in, the amount of cars will logically go down a lot as many countries from northern hemisphere will stop seeing cars driving around.
| Country | Subdivisions |
| --- | --- |
| Australia | Queensland |
| Brazil | Bahia, São Paulo |
| France | Occitanie |
| Germany | Bavaria |
| Indonesia | Banten |
| Ireland | Dublin |
| Italy | Lazio |
| Japan | Gunma, Kyoto, Mie, Nara, Niigata, Saitama and more* |
| Peru | Peru* |
| Poland | Poland* |
| Thailand | Amnat Charoen, Bangkok, Satun |
| United States | Alabama, Colorado, Georgia, Idaho, Illinois, North Carolina |
* the subdivision couldn't be identified
Note: information is gathered from social networks and news. Information may be not verified and may include reports older than a week (but never older than one month)