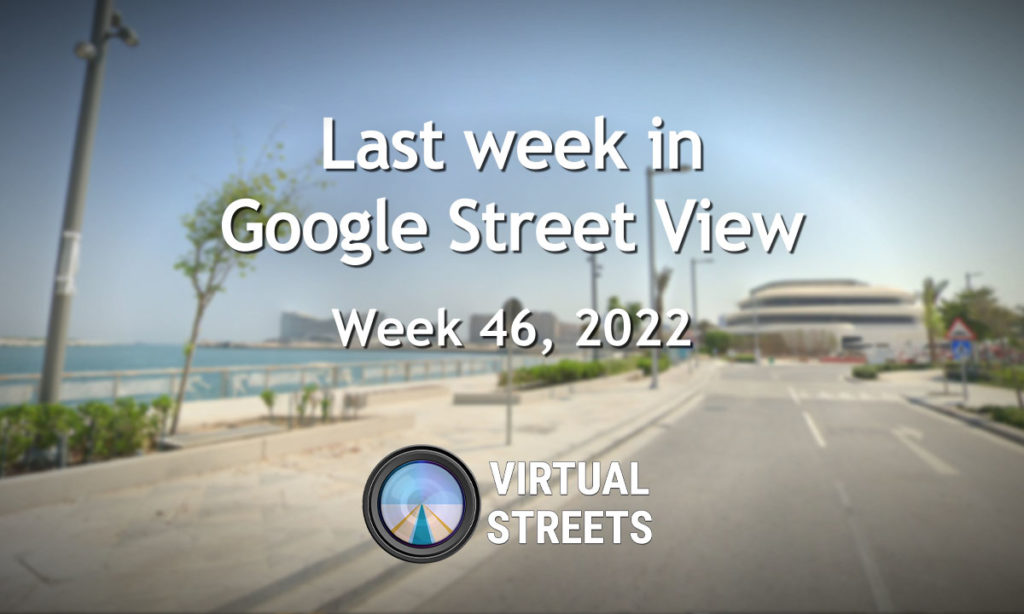 Main Events
A new country was added on Street View: Qatar.
November 2022 coverage is now available in Bulgaria, Canada, Ireland, Italy, Latvia, Norway, Spain, Turkey and the United Kingdom. October 2022 is now available in Brazil and Qatar.
No update happened on the list of future coverage this week.
New country: Qatar
On Friday Google added the first road coverage in Qatar. Before that, the country only had official coverage of the Hamad International Airport and the Museum of Islamic Art in Doha.
This new coverage was made on the occasion of the football world cup held in the country this year. Since 2010 and South Africa, Google often added Street View in countries that held major sport events and it was known Qatar was going to get coverage. However it was expected to be Trekker views of the stadiums, not regular streets.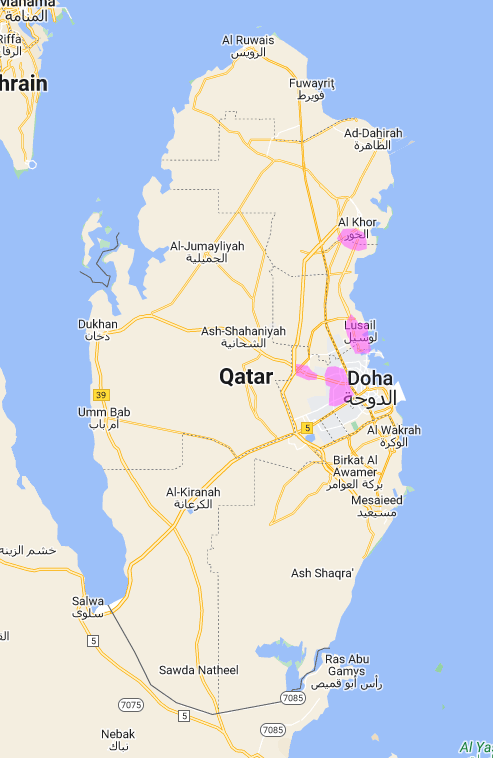 As visible on the picture above, the coverage is quite limited. Google only released data around five stadiums although the car did drive more that those areas as the blue lines can suggest. It is unknown why no more coverage was published. It could be government restrictions, or the fact Google only published this two days before the start of the event and lacked time to publish everything correctly. Also, out of the eight stadiums used for the world cup, only five received coverage. Notably, the stadiums inside Doha were all left out.
The coverage was made using a gen 4 Trekker on a pickup, similar to the recently updated countries in Africa. This leads to a huge pickup being visible on Street View.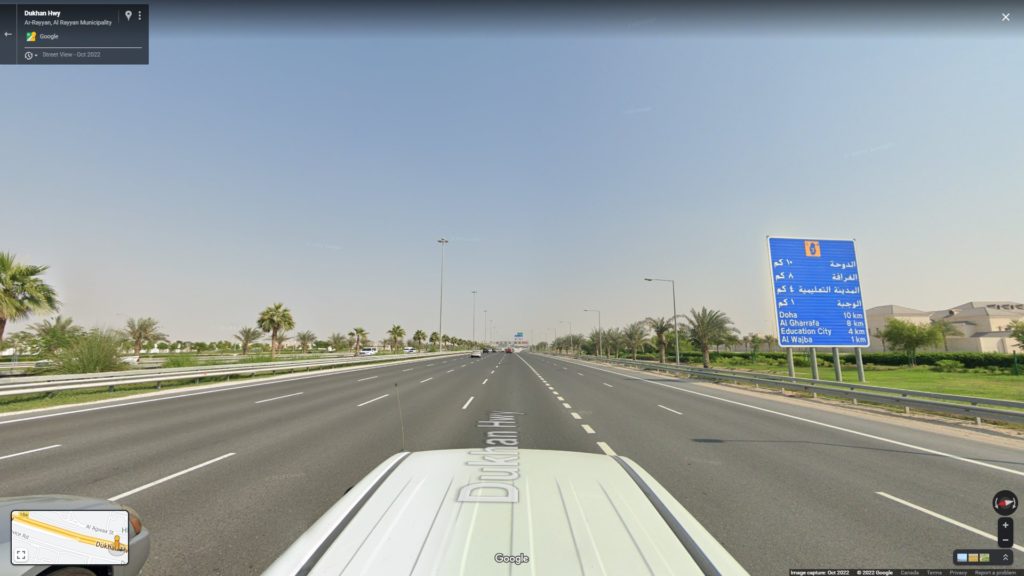 Surprisingly no Trekker coverage is available inside or in the pedestrian areas around the stadiums. It is not known if Google plans to release this kind of coverage neither if more roads will be published in the future.
Continuous Updates
Last week updates were found in 25 countries. Outside of the addition of Qatar, no major update happened. Small additions and regular updates can be found in the following countries:
| Country | Subdivisions |
| --- | --- |
| Australia | Queensland, Victoria, Western Australia |
| Austria | Carinthia, Lower Austria, Salzburg, Styria, Upper Austria |
| Brazil | Bahia, Ceará, Goiás, Maranhão, Mato Grosso do Sul, Minas Gerais, Pará, Paraíba, Piauí, Rio Grande do Sul, São Paulo, Tocantins |
| Bulgaria | Razgrad, Ruse, Targovishte, Veliko Tarnovo |
| Canada | British Columbia, New Brunswick, Ontario, Québec, Saskatchewan |
| Denmark | Southern Denmark, Zealand |
| France | Auvergne-Rhône-Alpes, Bourgogne-Franche-Comté, Brittany, Centre-Val de Loire, Grand Est, Hauts-de-France, Île-de-France, Nouvelle-Aquitaine, Occitanie, Pays de la Loire, Provence-Alpes-Côte d'Azur |
| Hungary | Heves, Komárom-Esztergom |
| India | Odisha, West Bengal |
| Indonesia | Bengkulu, Lampung, South Sulawesi, West Java, West Nusa Tenggara |
| Ireland | Roscommon |
| Italy | Abruzzo, Apulia, Basilicata, Campania, Emilia-Romagna, Friuli-Venezia Giulia, Lazio, Tuscany, Veneto |
| Latvia | Bauska, Dobele, Ogre, Riga, Sigulda, Tukums |
| Netherlands | South Holland |
| Norway | Innlandet |
| Philippines | Ilocos |
| Qatar | Al Daayen, Al Khor, Al Rayyan |
| Romania | Giurgiu, Gorj, Mureș, Vâlcea |
| Slovakia | Nitra, Trnava |
| Slovenia | Laško |
| Spain | Basque Country, Cantabria, Catalonia, Murcia, Valencian Community |
| Sweden | Halland |
| Turkey | Aksaray, Ankara, Eskişehir, Gaziantep, Kayseri, Kütahya, Manisa, Niğde, Yozgat |
| United Kingdom | England, Scotland, Wales |
| United States | Alabama, Arizona, Colorado, Florida, Georgia, Indiana, Iowa, Minnesota, Nebraska, New Jersey, New York, North Carolina, North Dakota, Ohio, Oklahoma, South Carolina, Texas, Utah, Vermont, Washington |
Note: information is gathered from the community, assisted with tools, as Google do not provide any information: it may be incomplete but should be reliable.
Google Car Spotting
Last week Google Street View cameras were reported 60 times by people from 18 different countries.
| Country | Subdivisions |
| --- | --- |
| Argentina | Córdoba |
| Brazil | Pará, Paraná, São Paulo, Sergipe |
| Canada | British Columbia |
| Croatia | Istria |
| Denmark | Capital Region |
| Finland | Uusimaa |
| France | Hauts-de-France |
| Indonesia | Indonesia* |
| Ireland | Ireland* |
| Italy | Abruzzo, Campania, Emilia-Romagna |
| Japan | Japan* |
| Mexico | Mexico, Tamaulipas and more* |
| Poland | Kuyavian-Pomeranian, Silesian |
| South Africa | South Africa* |
| Spain | Andalusia, Canary Islands, Catalonia, Murcia |
| Thailand | Roi Et, Ubon Ratchathani and more* |
| United Kingdom | England and more* |
| United States | Arizona, California, District of Columbia, Florida, Georgia, Idaho, Illinois, Missouri, New Jersey, Texas, Virginia, Washington and more* |
* the subdivision couldn't be identified
Note: information is gathered from social networks and news. Information may be not verified and may include reports older than a week (but never older than one month)