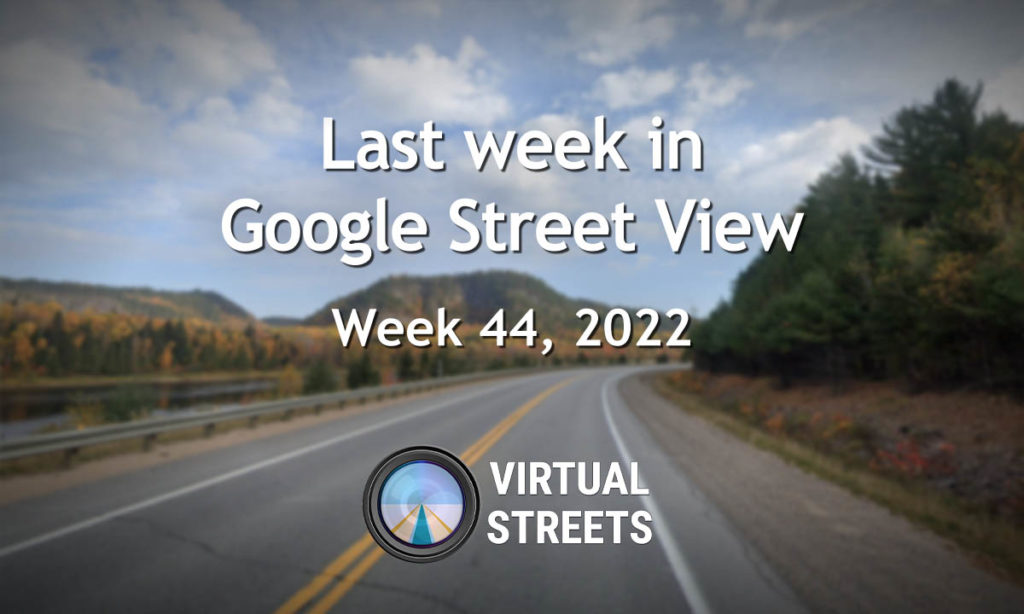 Main Events
October 2022 coverage is now available in Estonia, Indonesia, New Zealand, Singapore and Thailand.
The list got updated with the following changes:

Denmark, the Netherlands and Norway were extended to November
Austria and Switzerland were extended to December
Hong Kong was removed as the cars finished driving here
A few various changes for Japanese prefectures
Germany now ends in December instead of January 2023
The double entry for Qatar was fixed

A pickup with a Trekker was spotted in Panama, west of Panama City. This is the first time an official Google camera is used in Panama.
Continuous Updates
Last week updates were found in 27 countries. It was a calm week with mostly regular updates and minor additions.
The only country with major additions was Turkey, where the first coverage ever was published in the two remaining provinces that had no Street View yet: Hakkâri and Şırnak. Those provinces are located in the southeast and the new imagery can be quite close to Iran, Iraq and Syria. More additions happened in other parts of the country: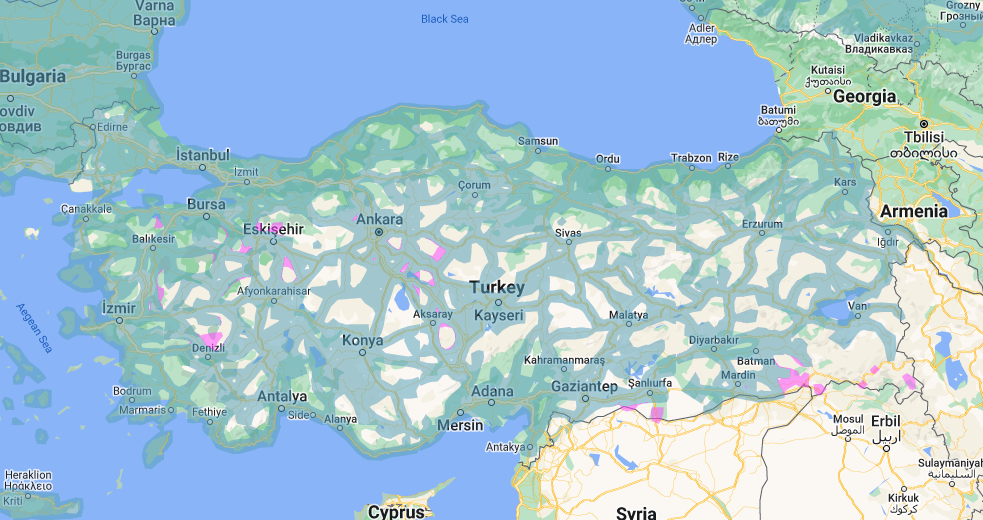 | Country | Subdivisions |
| --- | --- |
| Australia | New South Wales, Queensland, South Australia |
| Austria | Vienna |
| Belgium | Wallonia |
| Brazil | Mato Grosso, Pernambuco, Rio Grande do Sul, Santa Catarina |
| Canada | British Columbia, Québec, Saskatchewan |
| Estonia | Jõgeva, Pärnu, Põlva, Tartu, Valga, Viljandi |
| France | Auvergne-Rhône-Alpes, Normandy |
| India | Andhra Pradesh, Goa, Odisha, Punjab, Uttar Pradesh |
| Indonesia | Bangka Belitung Islands, West Sumatra |
| Ireland | Cavan, Offaly, Monaghan |
| Italy | Friuli-Venezia Giulia, Sicily, Veneto |
| Latvia | Jelgava, Jūrmala, Ķekava, Mārupe, Tukums |
| Mexico | Baja California |
| Netherlands | Friesland |
| New Zealand | Auckland |
| Norway | Innlandet, Møre og Romsdal, Nordland, Trøndelag |
| Philippines | Cagayan Valley |
| Portugal | Braga, Porto |
| Romania | Alba, Hunedoara |
| Singapore | Singapore |
| Slovakia | Banská Bystrica |
| Slovenia | Postojna, Trbovlje |
| South Africa | Free State |
| Sweden | Dalarna, Örebro, Varmland |
| Thailand | Nakhon Phanom |
| Turkey | Gaziantep, Hakkâri, Manisa, Şanlıurfa, Şırnak |
| United States | Alabama, District of Columbia, Florida, New Mexico, Oklahoma, Wyoming |
Note: information is gathered from the community, assisted with tools, as Google do not provide any information: it may be incomplete but should be reliable.
Google Car Spotting
Last week Google Street View cameras were reported 53 times by people from 20 different countries.
In Panama the first official Google Street View camera has been found: a Trekker installed on a pickup. This picture shows the vehicle driving in the west part of Panama City. This is the same setup that is used in Kenya, Nigeria, Rwanda or Senegal, meaning the pickup may stay largely visible if incorrectly blurred.
In Argentina an event was held in the province of Chubut, in the south. This event was organized by Google Argentina and involved a Street View car and a Trekker. This car may drive more to the south including the Tierra del Fuego province as the summer season is starting there.
The pickup in Rwanda was also spotted again in Kigali, showing they still drive in Rwanda.
| Country | Subdivisions |
| --- | --- |
| Argentina | Chubut |
| Austria | Vorarlberg |
| Brazil | Alagoas, Bahia, São Paulo |
| Chile | Santiago Metropolitan Region |
| Germany | North Rhine-Westphalia |
| Greece | Decentralized Administration of the Aegean |
| Indonesia | Central Java, East Java and more* |
| Ireland | Ireland* |
| Italy | Lombardy, Tuscany |
| Japan | Aichi, Ehime, Fukui, Gifu, Hyogo, Kumamoto, Saitama and more* |
| Mexico | Morelos, Querétaro, Sonora, Tamaulipas |
| New Zealand | Southland |
| Panama | Panamá City |
| Philippines | Western Visayas |
| Poland | Silesian |
| Rwanda | Kigali |
| Spain | Canary Islands, Galicia |
| Thailand | Chiang Rai, Yala and more* |
| United Kingdom | England and more* |
| United States | Connecticut, Idaho, Indiana, Iowa, Michigan, New York and more* |
* the subdivision couldn't be identified
Note: information is gathered from social networks and news. Information may be not verified and may include reports older than a week (but never older than one month)