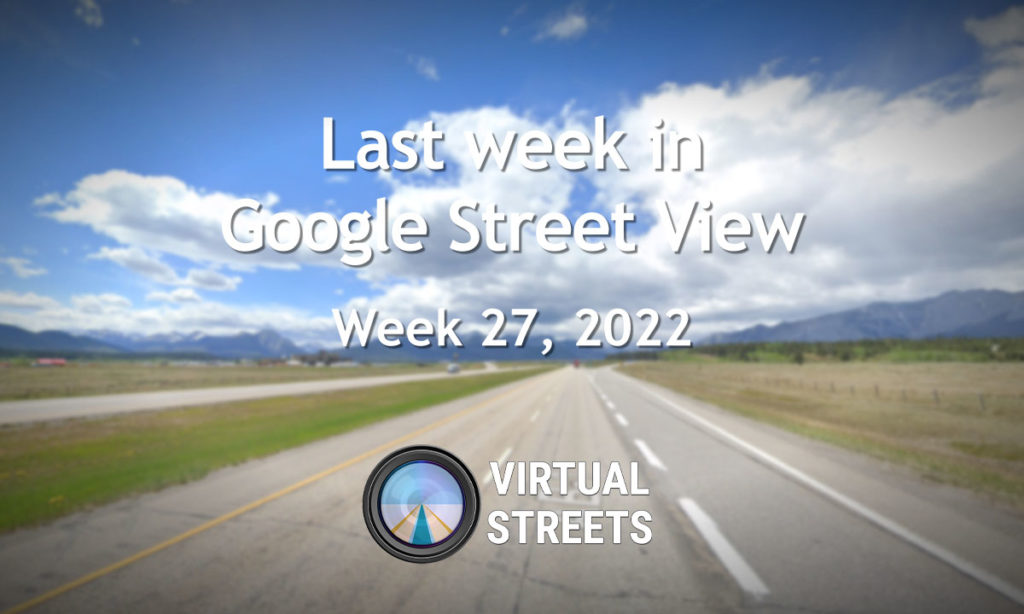 Main Events
As we entered summer, last week was quite calm. Typically July and August are the least active months for Street View. Consequently no big update happened this week. If July gets its own major update it could happen in two weeks. Wait & see.
However an interesting event is the Google car being spotted in Dakar, Senegal, with the operators telling they were done with the capital and headed to Touba and Saint Louis, two main cities of Senegal.
No update happened to the list of future coverage.
Continuous Updates
Last week updates were found in 13 countries.
As previously said, no major update happened. Most notable updates are in Norway with more regions getting 2022 coverage, or in Canada with the first 2022 coverage published in Québec and more updates in Alberta (notably the road going to Banff). Some US states also got their first 2022 imagery such as Idaho or Wisconsin. In Romania the county of Harghita continued its update with more roads added and unofficial coverage replaced.
Note: information is gathered from the community, assisted with tools, as Google do not provide any information: it may be incomplete but should be reliable.
| Country | Subdivisions |
| --- | --- |
| Austria | Salzburg |
| Bulgaria | Gabrovo, Haskovo, Lovec, Veliko Tarnovo |
| Canada | Alberta, British Columbia, Québec |
| Hungary | Békés, Csongrád, Heves, Jász-Nagykun-Szolnok, Pest |
| Ireland | Dublin |
| Mexico | Chiapas |
| Norway | Oslo, Troms og Finnmark, Trøndelag, Viken |
| Romania | Harghita, Mureș |
| Slovakia | Trnava |
| South Africa | Gauteng |
| Spain | Andalucia, Castilla-La Mancha, Galicia |
| Turkey | Ankara |
| United States | Arkansas, Colorado, Connecticut, District of Columbia, Idaho, Indiana, Iowa, Kentucky, Maryland, New Hampshire, North Dakota, Oregon, Utah, Washington, Wisconsin |
Google Car Spotting
Last week Google Street View cameras were reported 75 times by people from 24 different countries.
Note: information is gathered from social networks and news. Information may be not verified and may include reports older than a week (but never older than one month).
| Country | Subdivision |
| --- | --- |
| Brazil | Bahia, Mato Grosso, Pernambuco, Rio de Janeiro, Rio Grande do Sul, São Paulo |
| Bulgaria | Sofia |
| Denmark | Southern Denmark |
| France | Brittany, Nouvelle-Aquitaine and more* |
| Germany | North Rhine-Westphalia and more* |
| Greece | Decentralized Administration of Attica |
| Indonesia | North Sumatra, West Java, West Nusa Tenggara and more* |
| Ireland | Dublin |
| Italy | Lombardy, Tuscany |
| Japan | Aichi, Okinawa, Tokyo and more* |
| Mexico | Baja California, Guanajuato, Oaxaca, State of Mexico and more* |
| Norway | Agder |
| Peru | Lima |
| Philippines | Metro Manila |
| Poland | Lesser Poland, Opole |
| Romania | Bihor, Bucharest, Gorj, Hunedoara |
| Senegal | Dakar |
| Spain | Castile-La Mancha, Catalonia |
| Sweden | Varmland, Västerbotten |
| Taiwan | Changhua, Taipei |
| Thailand | Bangkok, Songkhla and more* |
| United Arab Emirates | Dubai |
| United Kingdom | England, Scotland and more* |
| United States | California, Indiana, Massachusetts, New York, Ohio, Texas, Wisconsin and more* |
*the subdivision couldn't be determined within the country