Main Events
Last week more countries obtained their first June 2022 coverage: Hong Kong, Indonesia, Norway, Philippines, Portugal and Thailand.
Switzerland got an update! After the previous update with 2019 coverage was removed Google deployed a new one with imagery from last year. Unfortunately only a fraction of the country was updated and since the coverage in the missing areas didn't evolve. This is probably the main monthly update, making it a bit lighter than the previous ones.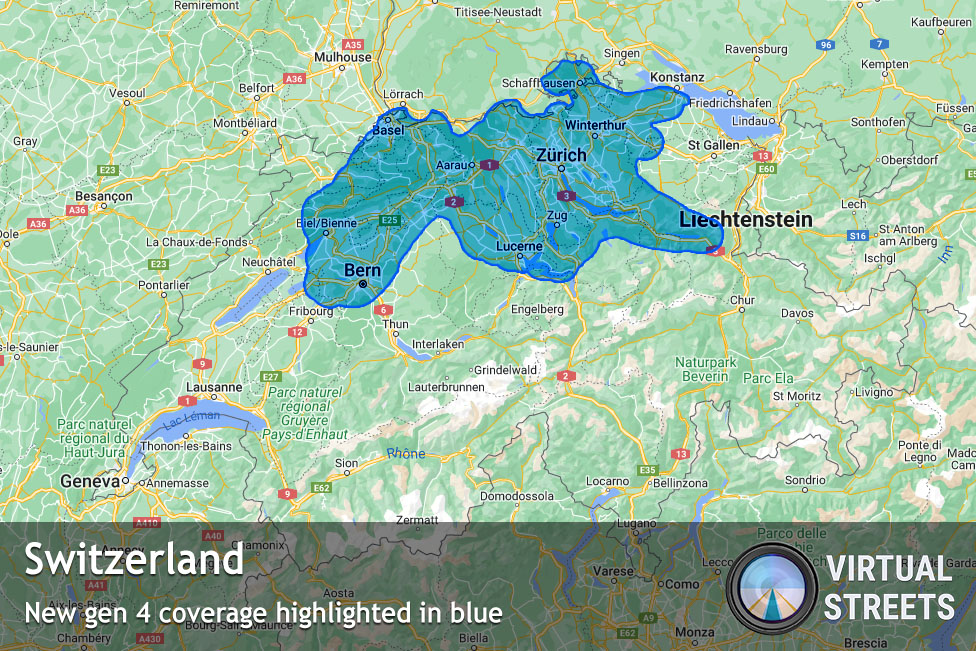 Continuous Updates
Last week updates were found in 29 countries.
Notable updates are found in Turkey where a lot of new roads, notably in rural areas, were added.
Brazil also received many updates, especially the state of Tocantins which was mostly covered with decade-old pictures.
In Romania, the county of Harghita finally got updated! The low quality unofficial coverage is progressively being replaced by brand new high quality official imagery.
Obviously last week's highlight is Switzerland where new imagery was released in the following cantons: Aargau, Basel-Landschaft, Bern, Fribourg, Glarus, Jura, Lucerne, Schaffhausen, Schwyz, Solothurn, St. Gallen, Thurgau, Zug, Zurich. Right now it is unknown if continuous updates are enabled in this country neither if the other cantons will also receive an update.
Note: information is gathered from the community, assisted with tools, as Google do not provide any information: it may be incomplete but should be reliable.
Country
Subdivisions

Australia
Western Australia

Austria
Burgenland, Carinthia, Lower Austria, Salzburg, Styria, Upper Austria

Brazil
Espírito Santo, Goiás, Maranhão, Mato Grosso do Sul, Minas Gerais, Pará, Tocantins

Canada
Alberta

Colombia
Casanare, Santander, Tolima

Denmark
Central Denmark, North Denmark, Zealand

France
Auvergne-Rhône-Alpes, Bretagne, Bourgogne-Franche-Comté, Hauts-de-France, Île-de-France, Nouvelle-Aquitaine, Occitanie, Provence-Alpes-Côte d'Azur

Hong Kong
Hong Kong

Hungary
Békés

Indonesia
Bali, Banten, South Kalimantan

Italy
Abruzzo, Apulia, Campania, Lombardy, Tuscany, Umbria

Japan
Shimane, Tokushima

Mexico
Baja California Sur, Chihuahua, Jalisco, Mexico City, Michoacán, Nayarit, Nuevo Leon, Puebla, Sinaloa, Sonora, Tamaulipas

Nether-
lands
Gelderland

Norway
Nordland, Trøndelag, Troms og Finnmark, Vestfold og Telemark, Viken

Philippines
Central Luzon

Portugal
Coimbra, Leiria, Setubal

Romania
Harghita, Satu Mare

Slovakia
Banská Bystrica, Nitra, Žilina

Slovenia
Celje, Slovenj Gradec, Velenje, Žalec

Spain
Asturias, Castile-La Mancha, Community of Madrid

Sri Lanka
North Western, Southern

Sweden
Skåne, Stockholm, Västerbotten

Switzerland
Aargau, Basel-Landschaft, Bern, Fribourg, Glarus, Jura, Lucerne, Schaffhausen, Schwyz, Solothurn, St. Gallen, Thurgau, Zug, Zurich

Taiwan
Hsinchu, Miaoli, New Taipei, Taichung, Taoyuan

Thailand
Buri Ram, Nakhon Si Thammarat, Phang-nga, Ranong, Saraburi, Sukhothai, Suphan Buri, Surat Thani, Trat

Turkey
Adana, Aksaray, Antalya, İzmir, Karaman, Kocaeli, Konya, Mersin, Niğde, Osmaniye

United Kingdom
England

United States
Arizona, Florida, Indiana, Nebraska, New Hampshire, North Dakota, Ohio, Texas, Wyoming
Google Car Spotting
Last week Google Street View cameras were reported 75 times by people from 17 different countries.
Note: information is gathered from social networks and news. Information may be not verified and may include reports older than a week (but never older than one month).
Country
Subdivisions

Austria
Vienna

Brazil
Maranhão, Mato Grosso, Paraná, Santa Catarina, São Paulo and more*

Finland
Uusimaa

France
Île-de-France

Germany
Berlin, North Rhine-Westphalia, Saxony

Greece
Decentralized Administration of Thessaly and Central Greece

Indonesia
Central Java, Jakarta, North Sulawesi, West Java and more*

Italy
Emilia-Romagna, Lombardy

Japan
Ehime, Hiroshima, Hokkaido, Okayama, Osaka

Lithuania
Vilnius

Mexico
Chiapas, Mexico state, Mexico City, Nuevo León, Veracruz and more*

Nether-
lands
North Holland and more*

Romania
Romania*

Spain
Andalusia, Catalonia

Thailand
Bangkok, Lopburi, Suphan Buri, Uthai Thani and more*

United Kingdom
England, Scotland

United States
Alabama, California, Georgia, Maryland, New York, Oklahoma, Texas and more*
*the subdivision couldn't be determined within the country