Lately we've seen Google cars in many countries, especially African countries with Nigeria and Senegal. It looks like this is not the end as recently Google cars were seen in many more countries where gen 4 coverage is not available yet!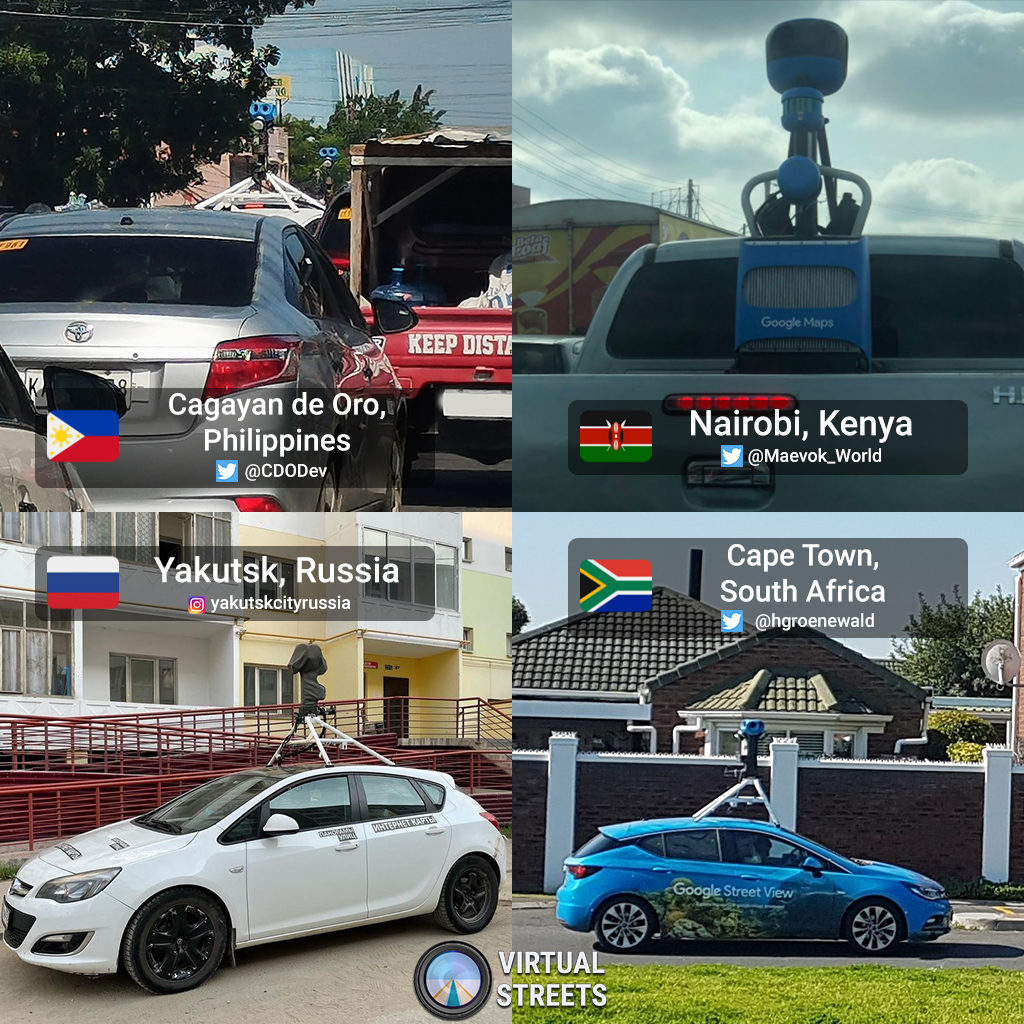 As you can see with the picture above, Google cars were spotted in quite surprising areas. The Philippines are probably the less surprising as Google usually drives here and the country is in the official list although not directly visible. However the listed places were in the north while those two cars were seen in the south in Cagayan de Oro. This city is on the island of Mindanao which is only partially covered but the city itself is regularly updated.
After Nigeria and Senegal, let's welcome the 4th generation of cameras in Kenya! Like the two other countries the camera used in Kenya is the Trekker mounted on a pickup. All those countries were covered using Trekkers a few years ago so it seems that Google is aiming to update at least their capitals. One country from the same group is still missing: Ghana. Will this country get a gen 4 Trekker in its capital Accra as well? Someone on Twitter did talk about it however without pictures it is impossible to be sure.
South Africa may be listed by Google, the only published and updated entry is about the state of Gauteng, home of major cities such as Pretoria or Johannesburg. The entry itself is a bit old as it goes up to June. However a gen 4 car was recently seen in Cape Town, which is part of another state not listed by Google. This means more areas in South Africa are being updated right now. South Africa still doesn't have any gen 4 coverage yet and the few imagery taken in 2020 before the lockdowns was never released. Maybe this time it will.
Finally in the very notable locations we finish with what is probably the most surprising one. Even more surprising than the African countries. A car with a gen 4 camera was spotted in Russia, another country without any gen 4 yet. But not only the country is a bit unusual, the city itself is quite remarkable: it is Yakutsk, in Siberia! This city is the main town of this part of Russia and the capital of the Sakha Republic. It was covered by Google once, in 2013, with available coverage only in the city itself. The main highway leading to here was never covered. Since this is quite a remote place it was very unlikely that Google would send a camera there again ever… turns out they are. The car itself isn't painted with Google logos and instead we can see stickers about street panoramas and internet mapping. Street View in a nutshell, basically. Cars in Russia usually don't bear the Google logo so this is not a surprise to see a white car like this.
Unfortunately all those locations are already covered so we only talk about updates and not new coverage (outside of new roads that can be added around them). But at least we can see that Google is picking up the pace and we can only hope for new countries to finally come online in the future. Wait & see…